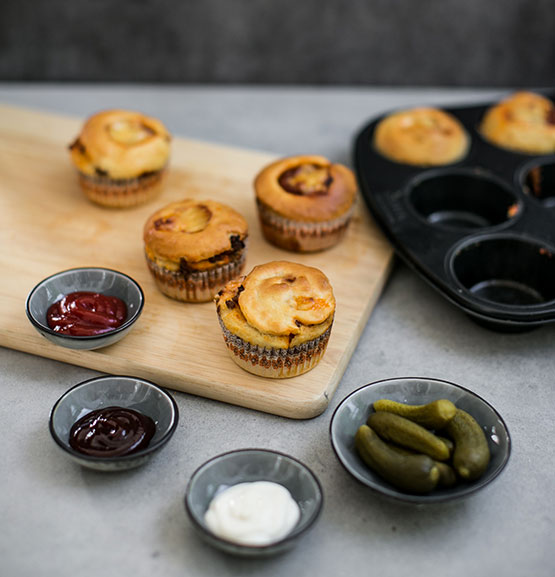 PASTA SAUCE MUFFINS
INGREDIENTS
for 4 people
For the dough
350g flour
1 packet baking powder
2 eggs
6 tbsp rapeseed oil
1/4 litre milk
1/2 tsp salt
1/4 tsp sugar
For the filling
1/2 jar FELIX Pasta Sauce Meat 360g
200g mince
1 onion
3 slices processed cheese
2 tbsp olive oil
FELIX Tomato Ketchup
FELIX Sour Cream Sauce
FELIX BBQ Honey Sauce
FELIX Small Fine Gherkins
PREPARATION
Preheat the oven to 175°C.
For the dough, first mix the flour, baking powder, salt and sugar. Mix the eggs, oil and milk separately and then add to the dry ingredients. Leave the dough to rest.
Cut the onion into small cubes, sauté in a pan with 2 tbsp olive oil, add the mince and dry roast.
Place the paper baking cups in the muffin tin and fill with a thin layer of batter. Place a small spoonful of mince in the centre of the pastry and spread with FELIX Pasta Sauce Meat. Cover the filling with pastry. Place a small piece of soft cheese on each of the muffins.
Bake for approx. 25 minutes.
Serve with FELIX Tomato Ketchup, FELIX BBQ Honey Sauce, FELIX Sour Cream Sauce and FELIX Small Fine Gherkins for dipping.