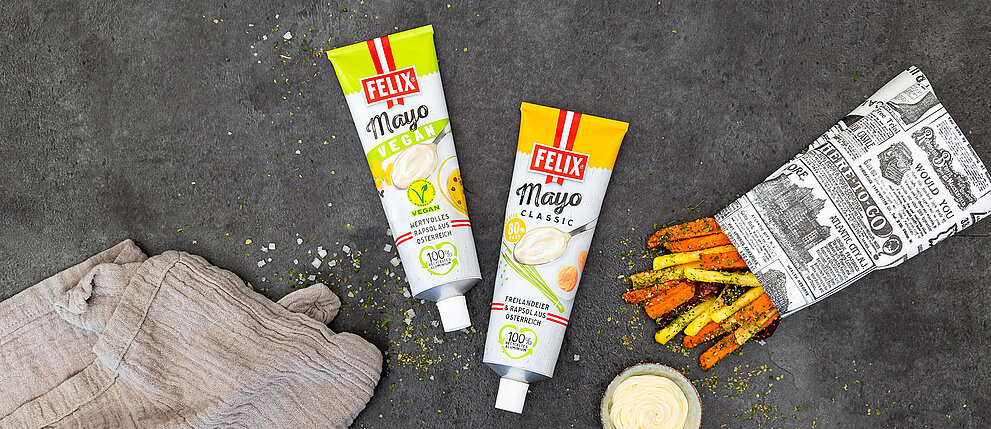 Mayo
from FELIX
In a sustainable tube.
Made with free range eggs and high-quality rapeseed oil from Austria!
So much quality and Austria is contained within our FELIX mayonnaise range!
We use eggs from free-range hens and high-quality rapeseed oil from Austria for our FELIX mayonnaise. This is why FELIX mayonnaise taste so good!
FELIX mayonnaise is available with 80% or 25% fat content, and there is even a vegan alternative to suit all tastes!
The creamy, smooth FELIX mayonnaise is the perfect accompaniment to many snacks and dishes! Try FELIX mayonnaise with sandwiches, toast, chips or as an ingredient in salad marinades, sauces and spreads.
Our contribution to climate protection: FELIX mayonnaise tubes are made from 100% recycled aluminium!
The recycling way of our Alutube!

In Austria there is a good waste separation system. The return rate for aluminum and tinplate (via aluminum tubes) in the corresponding collection containers is very good.
It is good to know that even a high degree of contamination of the emptied packaging is not a problem at all for recycling. Despite the necessary cleaning processes, recycling is still more energy-efficient than producing tubes from new aluminum. There is no loss of quality when recycling, because the recycled material is equal to the new.
With our aluminum tubes, we are also making a contribution to a functioning circular economy. The tubes are not sent to a landfill site, but are instead returned to the product cycle. As a result we can save valuable resources.