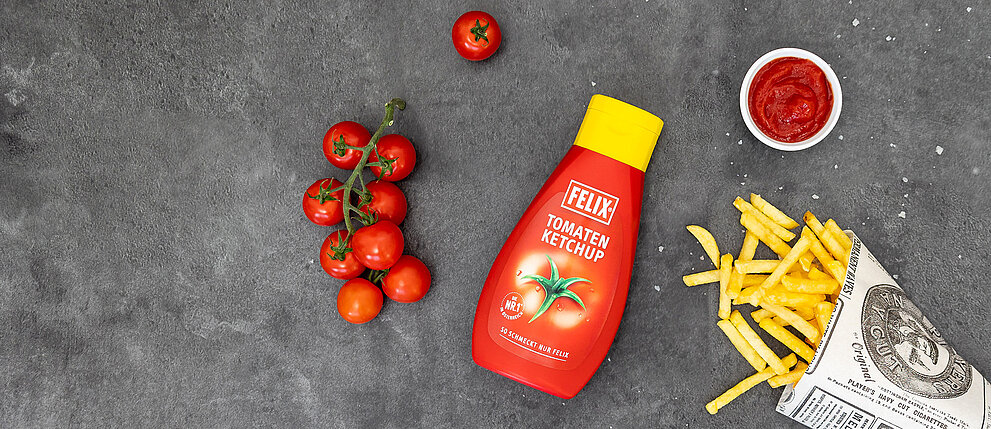 FELIX Ketchup
Mouth-watering taste
The most popular ketchup in Austria? FELIX!
Has been delighting young and old for over 60 years!
FELIX ketchup simply tastes great. But why?
The secret is the recipe, which has never been changed: An abundance of sun-ripened tomatoes, the mixed herbs (we won't tell you what's in it :-)) and the perfect balance of sweet and sour give FELIX ketchup its incomparable taste.
FELIX has the right ketchup for every occasion and taste! There are over ten different varieties to choose from and always something new to try. We offer everything from mild to hot, from hellfire ketchup for fans of spicy food to the sugar-free version and organic ketchup with less sugar and less salt. Or you can try Ketchup Pure for the purest of all ketchup delights!
FELIX ketchup is produced without preservatives, flavour enhancers or colourings and is gluten and lactose-free.
Simply the best ketchup - only FELIX tastes this great!
FELIX and the fire brigade go together like ketchup and chips.
A great team: FELIX and the fire brigade!
Our firefighters do an amazing job every day.
To show our respect for their service, FELIX has entered into a long-term partnership with the Austrian Federal Fire Brigade Association.
The promotion of the youth fire brigade is our main concern.
In 2020, the "youth fire brigade funding pot" was created. Since then, 115 projects have been funded with donations totalling € 30,000.
It is thanks to FELIX Austria that the Austrian Federal Fire Brigade Association (ÖBFV) was able to establish the ÖBFV Rapid Response Fund in 2017.
This relief fund provides rapid assistance in times of need, for example, if a firefighter is injured on the job. The family of the injured firefighter will then receive financial assistance from the fund. We also support regional fire brigade associations with similar aid projects. We have already been able to help several families.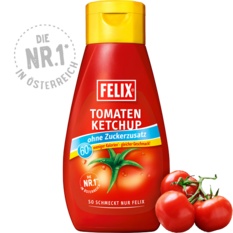 My favorite ketchup: ketchup with no added sugar - it tastes great and has fewer calories!
Thomas Morgenstern
Step back in time with FELIX Ketchup!
2021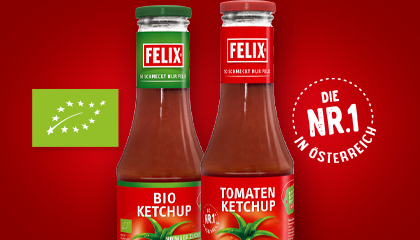 2014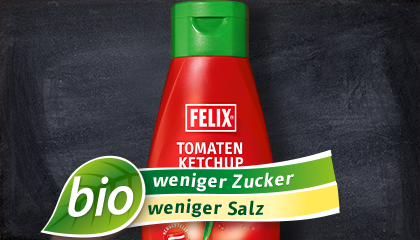 2007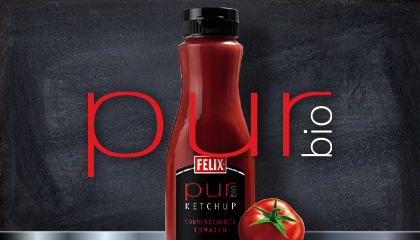 2003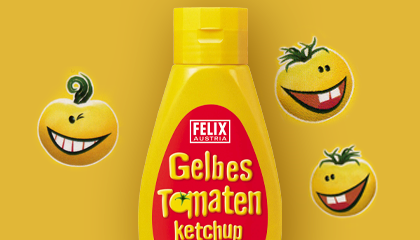 Tomatoes are red - but not always! There are also delicious yellow tomatoes. Back in 2003, we used it to make a yellow tomato ketchup.
1998
In 1998 it is said Everything is OK. - everything without preservatives!
Since then, FELIX ketchup has been produced without preservatives. Watch the TV ad and see how we freed the tomatoes!
1992
Whether you're Jennifer or Doris, you don' t have to be called FELIX to love FELIX!
Do you remember our iconic TV ad with Doris Schretzmayer from 1992?
1982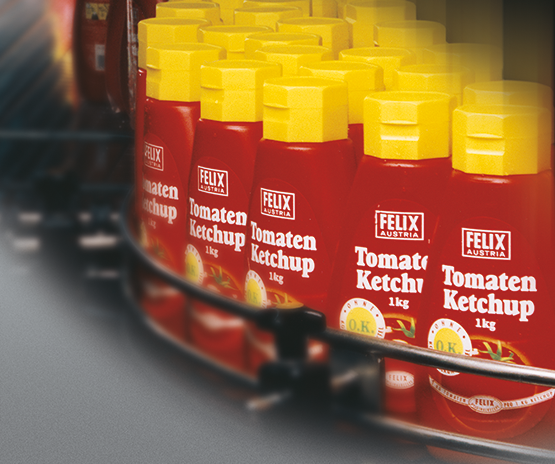 FELIX ketchup has been available in convenient plastic squeeze bottles since 1982.
1962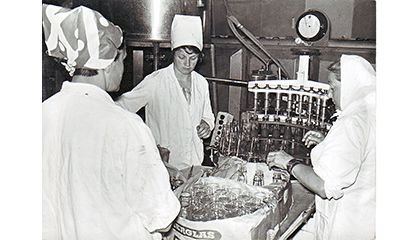 The whole of Mattersburg smells of tomatoes: The first FELIX ketchup is bottled!
A story of passion for pleasure and joy of life has begun. Since then, FELIX products have been among the most popular products in Austria.
It is widely believed that the word "Ketchup" originates from Asia. In Indonesian, "kecap" simply means "sauce" and refers to a fermented sauce made from soybeans.
In China, "kê-tsiap" refers to a fermented fish sauce that was served with fish or poultry dishes. Supposedly, this Asian speciality came to Europe in the 15th century with English sailors.
The word "ketchup" - spelled catchup - first appeared in an English dictionary in the 17th century. Since tomatoes were not originally an ingredient in ketchup, the term "tomato ketchup" also came into being.
That depends on the type of ketchup!
Basically, we mix the best tomato paste with herbs, sugar and vinegar in a boiler and heat it up.
In the process, all the ingredients are finely distributed and chopped to the desired consistency so that the perfect state between solid and liquid and the typical taste are achieved, exactly how you know and love FELIX ketchup. The exact recipe remains our secret, of course!
Whether you're a single person or a large family, planning a romantic dinner for two or a huge barbecue party: FELIX Ketchup is available in the right size and flavour to meet any situation!
The detailed description of the individual ketchup flavours tells you which variety is available in which pack size.