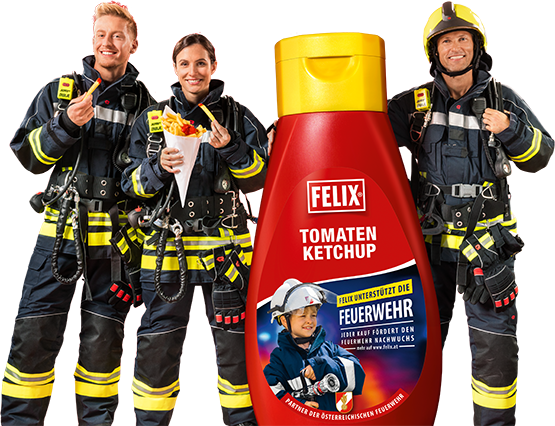 FELIX has been a leading partner of the Austrian fire brigade since 2015.
A good team: FELIX and the Austrian Fire Brigade!
Our firefighters accomplish great things every day. Out of respect for this achievement, FELIX has entered into a long-term partnership with the Austrian Federal Fire Brigade Association.
For the youth fire brigade was created in 2020 together with the Austrian Federal Fire Brigade Association
This promotion fund receives donations from FELIX every year. Youth fire brigade groups are invited to submit their projects for funding. Every year, we at FELIX are amazed at WHERE and HOW the funding is used.
We have already invested € 45,000 in 115 excellent projects. We would like to say a big thank you to the young people at the fire brigade and their supervisors for their commitment!
Every year, new creative ideas are submitted for funding and reviewed by a jury of experts.
Here are just some of the projects that FELIX has already supported:
Designing promotional material to recruit new members for the youth fire brigade
Purchasing new service uniforms and protective jackets for the youth fire brigade
Purchase of a projector for training
We are pleased to be able to actively support the youth fire brigade. Our donation gift cards are always very gratefully received by the fire brigades.
Further training of the youth fire brigade
We are particularly interested in training opportunities for the youth fire brigade.
Thanks to financial support from FELIX, it was possible to record training videos that provide information on the topic of "Ropes & Knots". Another project involved the design of information brochures. The collaborative projects "Be there" and "Together, Safe, Fire brigade" were very successful.
Financial support from FELIX was also used to run courses on "Safer Internet" for active fire brigade members and the youth fire brigade.
The main focus of these courses was to raise awareness about the "dangers" on the internet in conjunction with the hobby "fire brigade".
Did you know that in Austria every 25th citizen is active in the fire brigade?
FELIX supports the ÖBFV rapid response fund
It is thanks to FELIX Austria that the Austrian Federal Fire Brigade Association (ÖBFV) was able to establish the ÖBFV Rapid Response Fund in 2017.
This relief fund provides rapid assistance in times of need, for example, if a firefighter is injured on the job. The family of the injured firefighter will then receive financial assistance from the fund. We also support regional fire brigade associations with similar aid projects. We have already been able to help several families.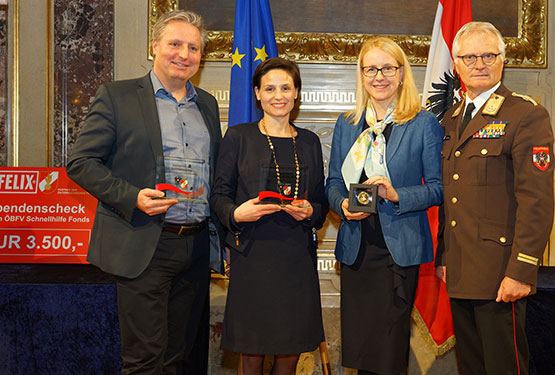 How did this idea come about?
"The members of the Austrian fire brigades often put their own lives at risk during emergencies. This personal commitment and courage is something that many firefighters take for granted and that is something we absolutely admire.
Of course, it is all the worse when a volunteer is involved in an accident. We don't want to forget those families who have lost loved ones as a result of a call-out.
It is important that those affected are not left alone in these particularly difficult times and that we can at least give them some financial support through this fund."
CEO FELIX Austria, Mag. Peter Buchauer