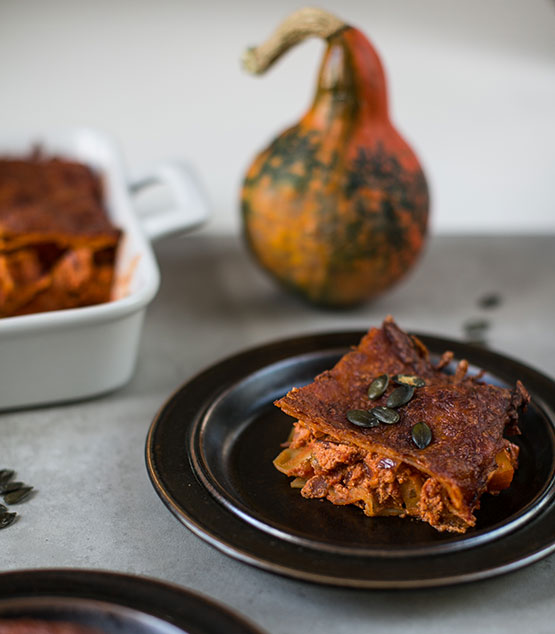 PUMPKIN LASAGNE WITH PASTA SAUCE
INGREDIENTS
for 4 people
2 jars of FELIX Pasta Sauce 5 herbs 360 g
1 pack lasagne sheets (not pre-cooked)
1 pumpkin (small to medium, approx. 750 g)
200 g ricotta or other cream cheese
Salt
1 pinch of nutmeg
1 tsp oregano
1-2 onions
5 tbsp olive oil
5 tbsp pumpkin seed oil
200 g grated cheese
50 g pumpkin seeds
PREPARATION
Finely chop the onion and fry with olive oil. Wash the pumpkin, cut it into small cubes and fry briefly with the onions. Add 1 1/2 jars of FELIX Pasta Sauce 5 herbs, then mix in the ricotta.
Simmer the pumpkin/pasta sauce over a medium heat for approx. 5 minutes. Season with a pinch of salt, a pinch of nutmeg and a teaspoon of oregano.
Set the pumpkin pasta sauce aside and cover the bottom of a casserole dish with some FELIX Pasta Sauce 5 Herbs. Then line with lasagne sheets. Now spread a layer of the pumpkin pasta sauce evenly on top, drizzle with a little pumpkin seed oil and cover again with lasagne sheets. Repeat the process until the pumpkin mixture has been used up. Spread the pasta sauce over the last layer of lasagne sheets.
Sprinkle grated cheese over the lasagne and bake in the oven for approx. 30 minutes at 180°C hot air.
To serve, sprinkle pumpkin seeds over the lasagne.