Nutrition, Wellbeing & Indulgence
That's smart: Good food for all needs
Our products should not only fill you up, but also increase your well-being and contribute to a healthier diet. And of course they simply have to taste good!
How do we reconcile all this and what else is important for good nutrition - you can find out here!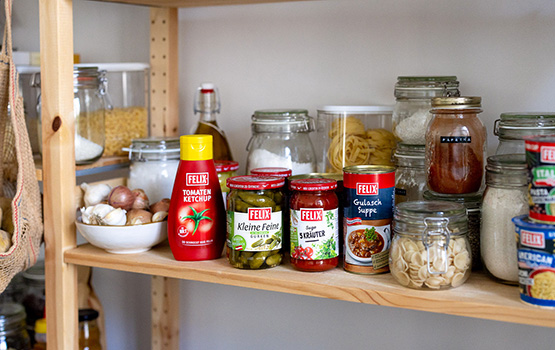 Our products
This is how easy they are preserved!
Have you ever wondered why our FELIX products have such a long shelf life?
It's simple! Our ready made meals, ketchup and our pasta sauces are boiled and packed under vacuum in jars, bottles and cans. So by gently heating them, they get their long shelf life. Just like you do when you make jam at home! In this way, our products stay fresh for a long time, retain their aromatic flavor and are therefore simply good for so long.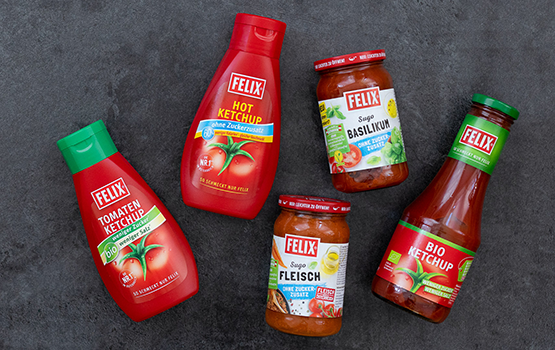 Let's talk about sugar
The smallest possible amount for the best taste!
Almost all Austrians, namely 92%, are far off the mark when they are asked to estimate their own sugar consumption! Their estimates are far below the actual consumption.
Each of us consumes an average of 91 g of sugar per day. That's 33.3 kg per year!
The World Health Organization (WHO) recommends limiting the daily amount of "free sugar" to less than 50 grams. That's ten teaspoons of sugar that an average adult is likely to consume. This could reduce the risk of unhealthy weight gain and tooth decay.
.
So why is sugar added to many products in the first place?
Sugar adds sweetness to food and is an important flavor carrier. But it has many other properties that are used in food production. That is why it is not so easy to replace it or remove it from a product. If sugar is reduced in foods, this often has technological consequences as well as sensory ones.
Sugar can round off the taste of foods and, for example, balance out a sour or bitter flavor note. Sugar also influences the consistency and texture of foods. In addition, sugar simply provides a pleasant mouthfeel. These are all important elements of a food that make it truly delicious. And all these things need to be thought about when it comes to reducing the amount of sugar in food.
FELIX has the right product for all of you!
If you consume sugar consciously, you are doing something good for your health. At FELIX, we take this issue seriously. Very early on, we started thinking about how we could reduce the amount of added sugar in our products. Without affecting the taste, of course!
Over the years, we have continuously reduced the amount of sugar in our pasta sauces. Four sugos even manage without any added sugar or sweeteners at all!
We offer several variants of our FELIX ketchup: There is sugar-reduced ketchup, ketchup with the sweetness from stevia and ketchup completely without added sugar.
FELIX simply offers the right product for every taste - simply choose according to your personal preferences!
What do we need salt for? Table salt or salt consists of the vital minerals sodium and chloride. Sodium is important, for example, for acid-base balance and muscle and nerve cells. Chloride is a component of digestive juices. Sodium is absorbed up to 90% via table salt. Too much salt, in turn, can be harmful to health.
Salt is also used to season our FELIX products. We pay very close attention to the right amount. To make it easier for Austrians to keep an eye on their daily salt consumption, we are continuously reducing the salt content in our FELIX products. Try our organic ketchup with reduced salt content!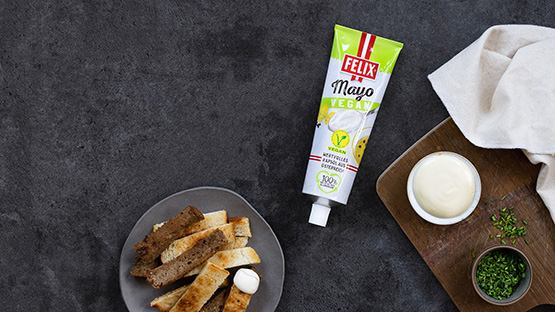 More and more people are changing their diet to vegetarian or vegan and consciously giving up meat. In doing so, they are setting an example for climate protection and resource conservation and saving greenhouse gas emissions. At the same time, they are doing something good for their bodies and their well-being. Vegetarians, vegans and flexitarians are shaping modern cuisine. With success: Meatless dishes are becoming more and more creative and delicious!
We at FELIX are happy to support this trend: our large product range includes a variety of meat-free products with which you can treat yourself to delicious veggie days! This also works quite comfortably and conveniently: If it should go once fast, our meatless Sugos are the best choice.
Another highlight that no fridge should be without is our vegan mayonnaise! Convince yourself of its incredibly good taste.
If you want to find the right product quickly, you can use our product filter. It helps you, for example, to click through the vegetarian and vegan sugos.
Looking for recipe ideas for a meat-free diet? We regularly post new vegetarian recipes on our FELIX Instagram channel in the "Culinary Vegetarian" series online!
FELIX pleasure in organic quality!
Organic food comes from ecologically controlled cultivation. There, climate-compatible farming is carried out without artificial pesticides or artificial fertilizers. Animal welfare plays an important role in organic farming. On organic farms, animals are kept in a manner appropriate to their species and fed according to organic principles. This commitment to nature has a positive effect on organically produced food. With organic food you do something good for yourself and also for the environment.
By the way: All our FELIX organic products are certified with the EU organic logo.